InvestX Partners with Caplight to Improve Transparency in Private Markets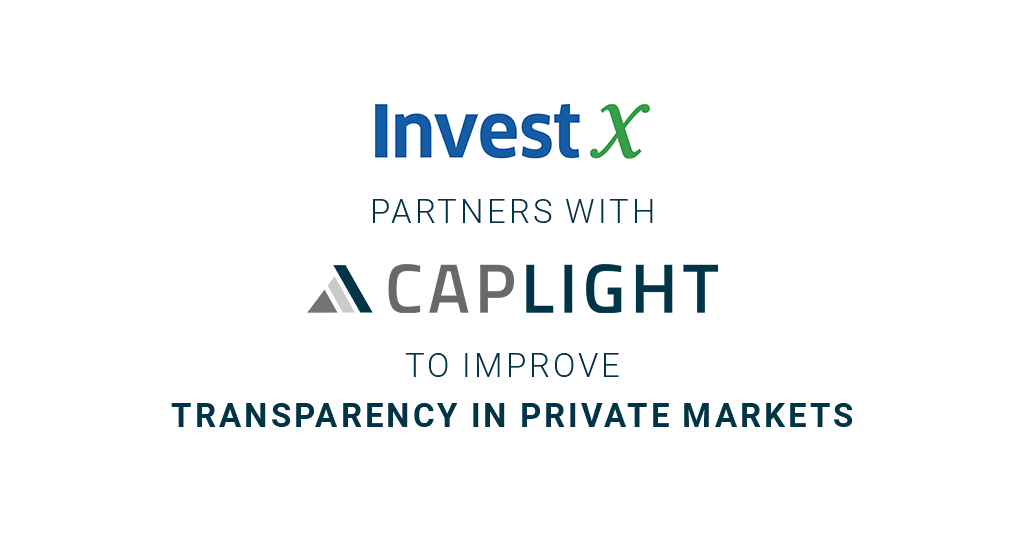 With this partnership, InvestX clients will have access to more data, price discovery tools and a centralized view of the private market landscape and trading capabilities
New York, NY – May 2, 2023 – InvestX Markets LLC ("InvestX"), a leading private equity marketplace that empowers broker-dealers to invest in pre-IPO companies through single-issuer SPVs, multi-issuer funds and secondary market trading, today announced a new partnership with Caplight Technologies, Inc. ("Caplight"), to enhance data and improve price discovery through its trading platform, InvestX GEM (Growth Equity Marketplace).
The private market is one of the fastest growing and most coveted asset classes. Navigating the private markets is both highly complex and incredibly opaque, as information on business performance is scarce and non-public. Through this partnership, InvestX aims to improve transparency and increase access to data in the private market space.
In January 2023, Caplight announced the release of Caplight Data, a tool for tracking venture-backed private company stock prices, valuations, and trading activity. Caplight Data offers a solution by providing users with access to a large and growing dataset of over 15,000 private company transactional data points, representing over $300 billion of volume, as well as over 20,000 investment fund marks of private company stock prices. Pricing information is currently available for over 450 late-stage private companies.
"InvestX's strategic partnership with Caplight allows us to continue to democratize access to the growth equity asset class by offering easy-to-use trading technology, a vast dataset and marketplace that brings efficiency, liquidity, and transparency to an antiquated process," said Marcus New, Founder and CEO of InvestX. "Investment opportunities are continuing to shift from the public to the private markets as demand continues, but access remains the investor's challenge. We're proud to partner with Caplight to improve transparency and provide our clients with a centralized view of the private markets and trading capabilities, creating an all-in-one destination."
With deep industry expertise in the private market sector, InvestX enables family offices, large banks and sell-side firms – including broker-dealers, wealth management firms, RIAs, and financial advisors – to provide access to their clients and participate in private offerings before a company goes public. With this partnership, InvestX clients who trade in the secondary market can access historical pricing and data from Caplight's consortium of market participants.
"We are excited to partner with InvestX who is a leader in late-stage private market investing," said Javier Avalos, Co-founder and CEO of Caplight. "By partnering with InvestX, together we can provide access to a broader group of investors. Our missions are closely aligned and we look forward to enabling the wealth management community to access, invest and trade in this sought-after asset class in a seamless and electronic process."
About InvestX
Founded in 2014, InvestX empowers broker-dealers and their clients with access, liquidity and transparency in the private markets. Sell-side firms are provided unbiased information and can invest and trade in late-stage, pre-IPO companies through a number of channels, including single-issuer SPVs and multi-issuer funds as well as secondary market trading of institutional quality private equity via InvestX GEM (Growth Equity Marketplace). InvestX is democratizing the growth equity asset class by offering wider access and simplifying the complexities of transacting in the private markets. InvestX is backed by leading institutional investors, including Jefferies, Virtu and Canaccord Genuity. For more information visit https://www.investx.com/.
About Caplight
Caplight is building market data, price discovery tools, and derivatives to enable shareholders, institutional investors, and brokers to trade in the pre-IPO asset class with more confidence. The company's goal is to bring public market-like transaction data, execution, and settlement mechanics to the private markets. In doing so, Caplight will allow many institutional investors to access the private markets for the first time.
Media Contact:
Caitlinn Riedell
Caliber Corporate Advisers
caitlinn@calibercorporateadvisers.com
(516) 547-5686