InvestX, Virtu Financial Talk About the Democratization and Electronification of Private Market Trading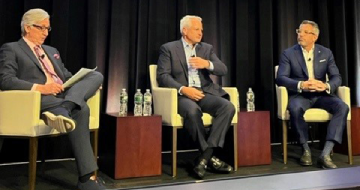 InvestX, Virtu Financial Talk About the Democratization and Electronification of Private Market Trading
May 17, 2022
Brian Schaeffer, Managing Director, InvestX, joined Douglas Cifu, CEO of Virtu Financial, and CNBC's Senior Markets Correspondent, Bob Pisani, to talk about the democratization and electronification of investing in the private market at the Security Traders Association of New York's (STANY) 86th Annual Conference on April 4, 2022. With about 500 attendees at the New York Stock Exchange (NYSE), the rapid-fire conversation focused on companies staying private longer, leading to an explosion in private equity investment and trading opportunities.
Just 8 years ago, there were fewer than 100 companies with a billion-dollar valuation; now, there are more than 1,000 so-called Unicorns. These companies, which had previously stayed private for 4-6 years, now stay private for 10-13 years on average. Schaeffer explained that laborious U.S. Securities and Exchange Commission (SEC) reporting requirements coupled with the costly process of going public, and the loss of privacy, have compelled issuers to stay private longer. This trend has created an increased demand for liquidity and a fertile ground for introducing private market trading platforms. Schaeffer cited this as a driver behind InvestX developing innovative technology that connects a network of broker-dealer buyers and sellers who can transact seamlessly in what has been called the most profitable asset class in the world.
Virtu Financial CEO Doug Cifu also spoke about an increasingly blurred line between public and private markets, thanks to increased availability and access to capital, which was not the case 10 years ago. Companies primarily stay private longer now because they have better and quicker access to private capital with better-negotiated terms. Global private equity assets under management (AUM) alone are forecasted to reach $5.8 trillion by 2025. In the meantime, new private equity trading platforms like InvestX are democratizing and electronifying the process of transacting in private companies. In early 2021, InvestX launched its enhanced state-of-the-art trading platform, InvestX GEM (Growth Equity Marketplace). By providing its sell-side clients access to InvestX GEM, InvestX enables its broker-dealers to better serve their clients by providing greater access, liquidity, and innovation in the private market.
"All these brokers are two ships [passing] in the night because they don't transact with one another – yet they all have clients that can potentially match," said Schaeffer, "Our platform electronifies the process and anonymizes the process so that they might find a match for their buyer and seller, whereby providing a huge service to their clients that they don't provide today." The conversation brought a lot of attention to platforms like InvestX, which differentiates itself by providing the trillion-dollar wealth management community the ability to access, invest, and trade in late-stage private companies. InvestX offers the surety of transactions by bringing qualified reputable broker-dealers on both sides of the trade to the table.
Cifu also spoke about Virtu's interest in and partnership with InvestX. In September 2021, InvestX announced that it secured a strategic investment from financial institutions Jefferies Financial Group Inc., Virtu Financial, and Canaccord Genuity Group Inc. The investment allows InvestX to advance its innovative technology platform, increase back-office integration, and expand its footprint in the U.S. and Canada.
If you are an institutional or accredited investor, please ask your adviser for access to InvestX GEM trading opportunities.
For more information, visit www.investx.com.