InvestX Appoints Capital Markets Expert Jeanne McLaughlin as Executive Vice President of Marketing & Communications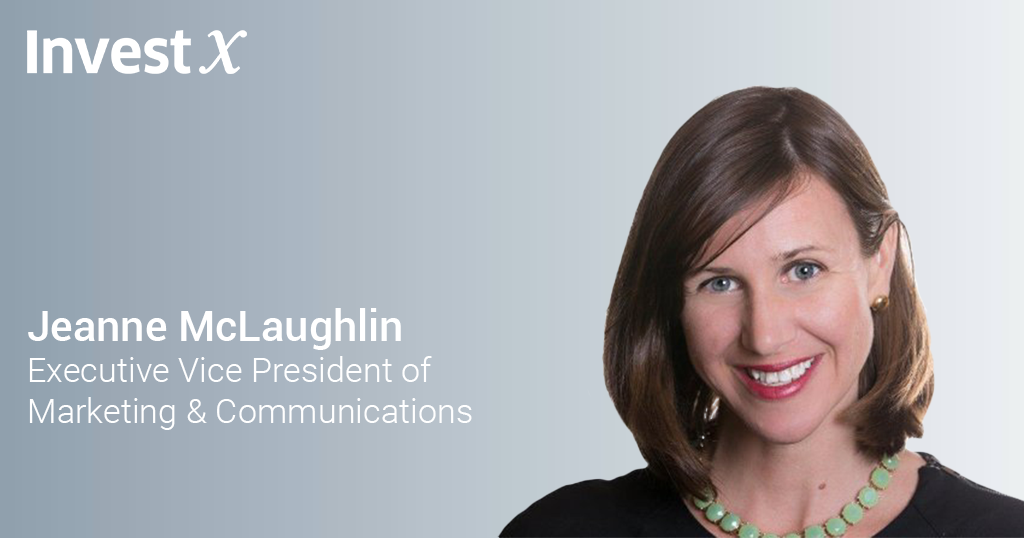 InvestX Appoints Capital Markets Expert Jeanne McLaughlin as Executive Vice President of Marketing & Communications
High-Impact Executive to Help Drive Growth, Brand Visibility and Value for Pre-IPO Marketplace
New York, NY – March 31, 2022 – InvestX Capital Ltd. ("InvestX" or the "Company"), a leading private equity marketplace that empowers broker-dealers to invest in pre-IPO companies through its state of the art platform GEM (Growth Equity Marketplace), today announced the appointment of Jeanne McLaughlin as Executive Vice President of Marketing & Communications.
"We are excited to bring on an industry veteran like Jeanne to InvestX," said Marcus New, Founder and CEO of InvestX. "Her impressive background at the intersection of traditional financial services, technology and the electronification of trading products and processes make her an ideal candidate to lead our marketing and communication efforts. Under Jeanne's leadership, I am confident that we will further grow our brand visibility across North America, continue to deliver a best-in-class experience for our broker-dealer clients, while providing exciting investment opportunities in late-stage, high-growth companies."
Leveraging over two decades of experience, McLaughlin will lead InvestX's overall business marketing and communications strategy, partnering with the company's sales, product, and client services teams to increase opportunities and create channel-specific engagement strategies. Most recently, McLaughlin was the Head of US Marketing at Tradeweb Markets, where she directed top-performing marketing campaigns and targeted content programs to increase brand visibility and product revenue. Before moving to Tradeweb, she was the Executive Director, Global Head of Marketing Strategy – FX, Rates and Credit at UBS, where she led global marketing for the fixed income, derivatives and the foreign exchange division of UBS Investment Bank and their multi-asset class trading and content platform.
"As more and more high-growth companies choose to stay private for longer, it is becoming increasingly imperative for broker-dealers to expand access to this asset class to their clients," said Jeanne McLaughlin, Executive Vice President of Marketing & Communications. "Drawing on my experience with electronic trading marketplaces, I'm excited to join InvestX and help democratize private company investments beyond institutional investors who have long dominated the space."
Since launching in 2014, InvestX has experienced significant growth with more than 50 of the most reputable broker-dealers interacting with its platform over the last year, and has experienced exponential growth across all segments of its business lines, including tripling its employee headcount from 15 to nearly 60 today. It recently announced the expansion of its executive leadership team with the appointments of Jonathan A. Clark, as President, USA, and Dan Sanders, as Executive Vice President, Private Markets.
In 2021, InvestX made new investments in the following notable companies: Impossible Foods, Kraken, Hootsuite, Udacity, DataStax, Scopely, Epic Games, Varo Bank, among others. Exited investments include: Palantir, AirBnB, 23andMe, SoFi, Ginkgo Bioworks and others. The company also announced a strategic investment from financial leaders Jefferies Financial Group Inc., Virtu Financial and Canaccord Genuity Group Inc., which is being used to advance its technology platform, increase back-office integration, and expand its footprint in the U.S. and Canada.
About InvestX:
Launched in 2014, InvestX provides the $30 trillion dollar wealth management industry with access to the private equity asset class. InvestX empowers broker-dealers and advisors with access, liquidity, and innovation to the private equity asset class through investments in pre-IPO companies on a state-of-the-art trading platform. Sell–side firms can access unbiased information, and trade shares of institutional quality private equity, without the traditional multi-million-dollar investment minimums. InvestX is democratizing the growth equity asset class by offering real-time trading technology that provides better access, liquidity, and transparency to an antiquated process. For more information visit https://www.investx.com/.
Recent Posts
Categories
Archives